Few Ideas for Planning a Budget Trip to Singapore
Singapore is one of the most happening locations when it comes to travel destinations, so you would be well within your rights to think it is going to cost a fortune to be able to visit this amazing destination. Do not despair. If Singapore is on your bucket list, we will show you a way to enjoy Singapore to the fullest without breaking the bank. Yes, it is true. You don't need to be born with a silver spoon in your mouth to experience this blissful place. We will break it down into a list that covers every aspect from food and accommodation to places to visit that are either free or so cheap, it won't shoot your budget through the roof.
1) 10 places in Singapore you can visit without shelling out all your money
– Soak in the beach life at Sentosa:
One of the first things you wanna do in Singapore is unwinding at Sentosa's beaches. It is lined with many expensive beachside bars and resorts, but you don't need to visit them. Grab a drink and enjoy on the beach which is totally free and as an added bonus, there is loud music playing in the background. Watching the sun setting in this atmosphere is priceless and you don't have to shell out a single penny.
– Picnic and kite flying at Marina Barrage:
It is a huge dam and a modern engineering marvel that lies between Marina South and Marina East. There are plenty of water works and sculpture to keep you entertained and best of all you can get a free guided tour of the place. All you have to do is pre-book it on the official website of the Marina barrage. If kite flying is your thing, then it is even more enjoyable here.
– Be at a loss for words at the Gardens by the Bay:
This horticulture heaven is a must visit location if you are in Singapore. The one thing that is in shortage in Singapore is land space. So making a garden in the city was almost impossible but they found an ingenious solution to this. The land was reclaimed from the sea and even the vertical space was utilized to grow unique and exotic plants. It is a truly breathtaking experience and the best part is that it is absolutely free to visit. Enjoy the joys of nature right in the middle of civilization.
– Buy stuff for free at the Really Really Free Market:
You read it right. This is a market where you do not need your wallet to get stuff. If you are fortunate enough, you can get some really cool things at absolutely no cost. Sometimes, there are workshops conducted here that will teach you great skills for free. Definitely, check this place out.
– Explore culture and arts at the Esplanade:
This is Singapore's biggest cultural center. While many of the shows are costly, there are plenty of free shows that can range from live bands, theater to other fun shows. You must definitely spend an evening here. The building itself is a work of art.
– Snap a photo by The Merlion:
What's the point of going to Singapore and not clicking some photos to show off? This is an ideal location for just that. The Merlion or half mermaid half lion statue is cool, but you can get some breathtaking views from here. As has been the theme of this list, it is absolutely free to come here.
– Go for a stroll in the Singapore Botanic Gardens:
Getting here is easy now and once you get here, it is like being transported to a whole different world. The lakes and the greenery are soothing and offer a healing experience to both your mind and body. All without paying a single dime.
– The best open movie theater:
There is a group called the moviemob. They organize free screenings of movies under the stars for free. The locations vary but it is also an experience worth experiencing. You get to mingle with huge crowds from various culture while getting to see a movie absolutely free. Check their website or facebook page to know where the next screening is going to be.
– Get in touch with history and heritage at the Buddha Tooth Relic Temple:
This beautiful place is a very soothing place and one of the top pilgrimage places for Buddhists. You will also be provided with a free meal here. That just sweetens the appeal of this place.
– Experience a whole new level of tourism at Haw Par Villa:
This place tries to depict the ten stages of hell depending on its severity. Do not worry. It is not as macabre as it sounds. Take it all in a light mood. The art and creativity here cannot be described in words and best of all is that the entry is free.
2) Transportation
This is an often overlooked scenario when people plan vacations and often ends up stripping you of a lot of money because you didn't plan for it properly. Do not worry, we will make that easy for you as well. The good news is that you can get around in Singapore from one tourist location to another easily, quickly and most importantly cheaply. Your lifeline here is the MRT, the city's highly accessible subway where rides are reasonably cheap. Another thing that works out to your advantage is that many of the locations listed above are bunched together so you can walk from one to another which in itself is a great experience as you get to see Singapore at the street level.
3) Food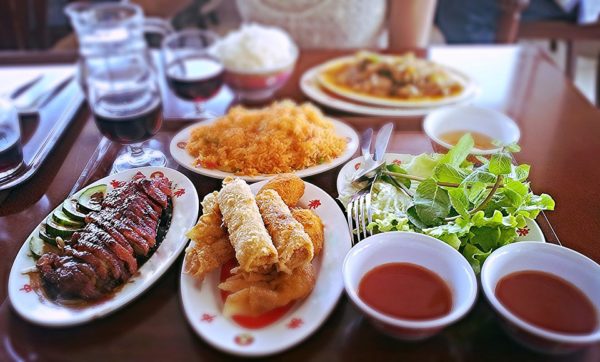 Another thing that cannot be overlooked, the first problem people often face abroad is getting quality food at a reasonable price. Singapore is an exception. Do not eat at expensive restaurants. Instead, try the food courts. The hawkers here provide delicious food of exceptional quality at the cheapest price. What more do you need? You will be able to save a big chunk of your budget this way. You can also check many places that give food out for free. And if you are up to learn first hand how to make the amazing local food, you can check out cooking lessons from places as Food Playground which offer an amazing experience of all the Singaporean food has to offer.
4) Accommodation
Perhaps the most expensive component of your stay in any foreign land is the accommodation, but Singapore has a solution for even this. There are plenty of options for cheap and even free places to stay. You could rent a condo in Sengkang. Sengkang condo is not only a good idea for your accommodation solution but is also within a reasonable rate. You can also couchsurf. If you are comfortable at staying at stranger's houses, you can get very cheap accommodation at people's homes where they will welcome you cordially and provide you with a place to rest your head for the night.
To summarize, you can go to Singapore, have a blast and come back with memories to last a lifetime, all with very nominal spending from your end. I would like to give out a special shout out to an Indian restaurant called "Annalakshmi". Here delicious food of homemade taste and quality is distributed for free. So if you are very tight on cash, you can always come here for a homely meal. Else you can always pay and go back with the good feeling that your money will feed some poor person and you will have their blessings as well. So if you have always wanted to go to Singapore, it is not as expensive as you thought. Grab your bags and head to Singapore for your next holidays and live your dream.